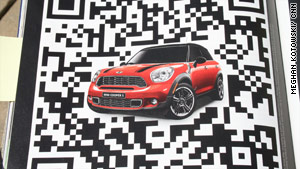 Just came across this article on the CNN site that provides numerous examples — some successful and some not so — of various businesses using QR codes in their marketing.
(Click here to read the article on the CNN website)
As is the case with any other marketing tool, you can profit from adding QR codes to your mobile marketing arsenal or you can lose money. It's all about the right approach and implementation.  It makes you money if it adds value to your customer. Otherwise it becomes just another cumbersome and useless technological doohickey that was put in place as a tribute to the latest fashion in technology trends with no real connection to the sales conversations from the customers that is supposed to take place in that business.
You'll find both types of examples (good and bad) in this article.
Here's an interesting stat that I gleaned from it: Over 32% of cell phone users already have QR scanning software installed on their smartphone. That number grows every day. Over half of those people have used their QR Code scanner to get a coupon or a deal.
Now, ask yourself how many businesses right now, in your town, are marketing QR Code-based coupons to prospective customers? The answer is, hardly any.
If those stats are true, simply adding QR Codes to your marketing may potentially give you almost exclusive access to about 16% of the population.  If this is not shooting fish in the barrel, I don't know what is.
And if you're still not a believer in QR Codes, you should at the very least add SMS Marketing and SMS List Building to your advertising efforts.  The more channels you use to reach your customer, the better your chances of getting the sale are.